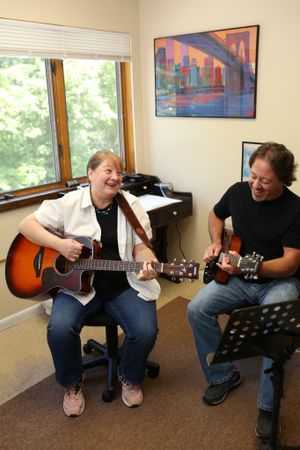 About
Rhinebeck School of Music was founded by Erin Hobson and Karl Allweier, who have been teaching private lessons in the Hudson Valley for two decades. The goal was a musical learning center, giving students and musicians, an opportunity to grow a bigger idea. The result has been the creation of a new school, with the hope of bringing together a community for all kinds of players.
Philosophy
The school's philosophy is making learning music accessible and not intimidating. Total beginners, as well as serious and advanced students are welcome. We are committed to helping students achieve their goals, big or small. Whether you are a hobbyist or seriously considering a career in music, we can help you.    
Classes include private study, group study, and workshops, including ensembles. All can be flexible to the needs and aspirations, and schedules of students. Learning music should be FUN, inspiring, and something to look forward to.
Location
Rhinebeck School of Music is located at 6815 Route 9, Astor Square in Rhinebeck, NY.
We are on the 2nd floor, above the Marigold Home - Hunter Douglas store. 
RSoM Students And Teachers