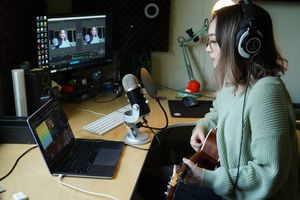 Record a Song!
with John Ross
Professional songwriter and producer John Ross offers recording services for students who wish to make a demo of their original music. In-person and remote options are available. 
Sessions are $50/hour.
John also teaches one-on-one classes in recording, film scoring, and music production. 
For in-person sessions, the school will provide all necessary recording equipment. John uses Logic software as a DAW. 
Listen to student demos below.
0:00/4:14

0:00/4:11

0:00/3:39

0:00/4:17
Record a Song Package
Reserve your spot to record an original song with John Ross.
Read more…